Hey bloggers. I have a developing update on the way. I just wanted to pop in real fast and let you all know that I have not forgot about you lol. This has been a busy week when it comes to blogging. I have had no time on the computer to make my forecast let alone blog. I have not even tweeted lately. :) Please stick with me bloggers. I promise I will have more frequent updates coming by Tomorrow. So check back tomorrow afternoon sometime and we will get back on track...
Brow did let us know about a Meteor shower tonight! At least he's on top of things! LOL :) Take a look at this below.
ORIONID METEOR SHOWER:
The Orionid meteor shower is
underway
.

Earth is passing through a stream of dusty debris from Halley's Comet, and this is causing meteors to shoot out of the constellation Orion. Earlier today, amateur astronomer Jefferson Teng photographed an Orionid fireball over Shanghai, China: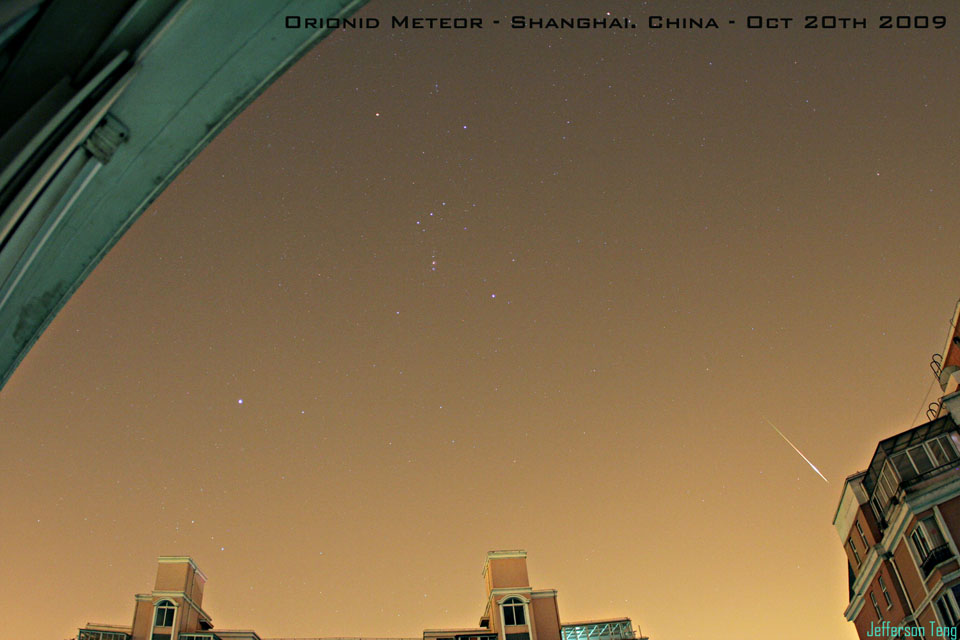 "I woke up early in the morning to observe the shower through my bedroom window," says Teng. "This one was quite bright considering the light pollution in Shanghai."
Forecasters expect the shower to peak on Wednesday, Oct. 21st, with dozens of meteors per hour. The best time to look is during the dark hours before sunrise. For best results, get away from city lights, but as Teng discovered, country darkness is not absolutely necessary.
One more thing! Have any of you noticed all the Yellow Ladybugs out lately?
Wow there have been a LOT here in the greater Lafayette, area. What does this tell us when it comes to forecasting? I will let you know the story behind these Yellow bugs real soon. Brow also sends us a picture of these ladybugs. I will have that posted tomorrow as well. Thank you all for understanding the slow updates this week. I will check back here tomorrow with the Ladybug info. Until then continue to enjoy the mild temperatures! ;-)