Spring like weather is sure on the way It will be here before you know it in more ways then one! We are not only talking about temperatures but the rain showers to go along with it! That's right rain showers.....No not heavy down pours but enough to show up on our radars......More like light here and their. This wont be until Thursday so we can enjoy today! Which will be another good day however still a little cool but we can remember the warm weather is coming! And soon at that.....But till then we can look for highs in the mid 30s and Mostly sunny skies even better is winds will be light and calm between 5 and 10 mph. Take a look at this map I put together below!
Yes our Fair weather friend is COMING for a visit!!!!! We can all get out and enjoy the warm sun on our face.....
Tomorrow much of the same with highs a little warmer around the low to mid 40s and Partly cloudy skies.....
We will be starting to get wet here real soon with more chances for rain in the forecast! Starting later Thursday we will see rain showers light however.....This will be an off and on deal. More rain showers on Friday again not looking for much most if not all the models are only calling for around .10" inches of rain. And if that is not enough we will see more light off and on rain showers on Saturday! I know it is a lot of wet weather! LOL.....We could even see a possible stray thunderstorm later Sunday into Monday as some of the models are showing and I will watch this closely and I will keep you posted.....Currently we should not worry about that for it is still a week away and you all know a lot can change.....This is Indiana we are talking about! :o) Take a look at this map from the CPC below.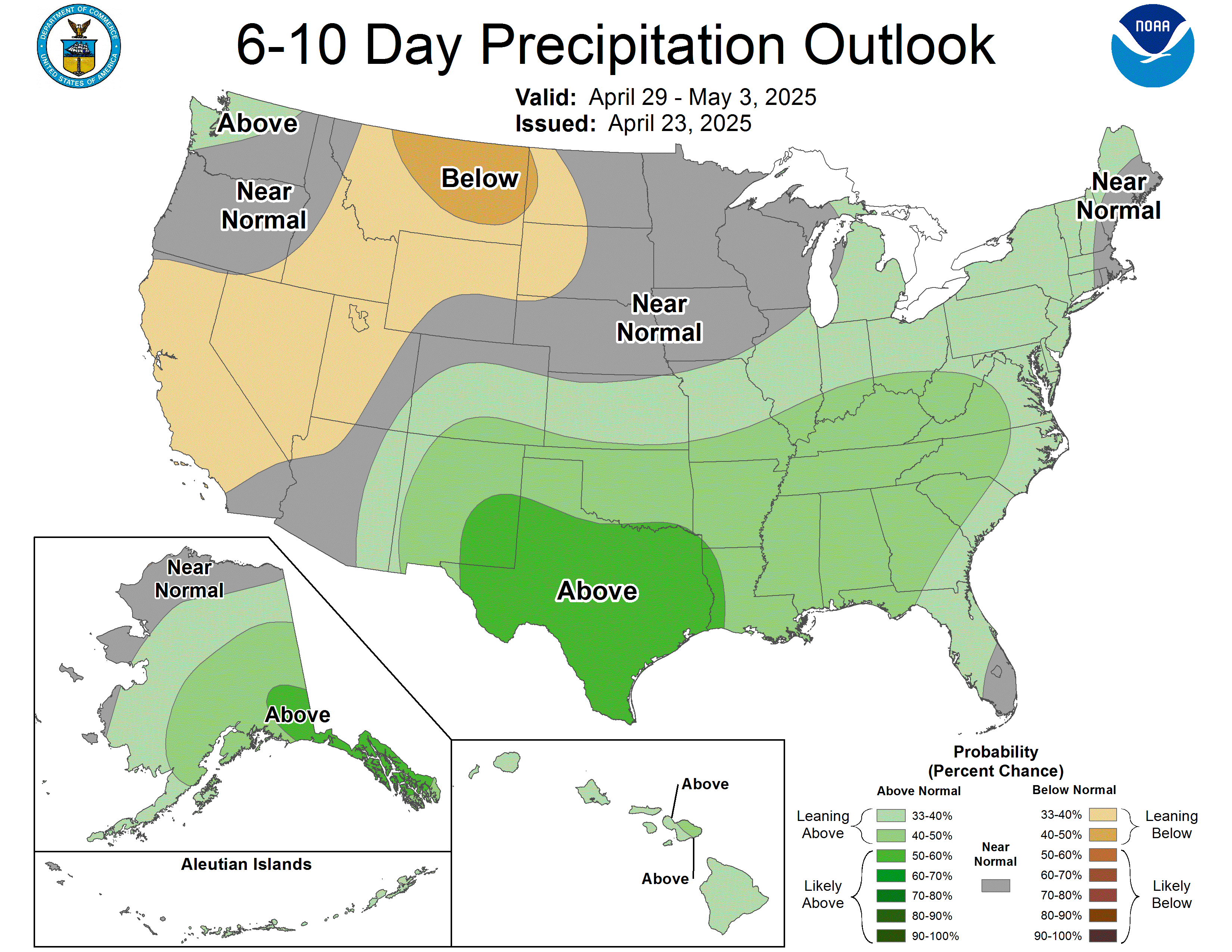 This is the outlook for the next 6 to 10 days and you can see we are expected to be above average for precipitation and with the way the start to next week is looking I can say I think this map above is going to be right! I see us having a WET start to next week which should be fun tracking for not just our area but around areas as well. Yes we just cannot have the warm without the rain. The warm weather comes with a price here in Indiana but we will take what we can get! And just be thankful for the day we have.....
Thank you for reading and I will check back again real soon! You might want to get out their early today and scoop out the Sunny Skies in your driveways! ;o)
Help someone in need be kind and help make the world a much better place! A little niceness can go a long long way!!!!! A little Love and go even farther....................