So we have that severe thunderstorm watch in effect until 9:00pm CDT 10:00pm EDT tonight but why is it in effect if we're not seeing anything severe?? Well, let me go ahead and point out that no we are not seeing anything severe at this time! Just some rain / thundershowers moving through the area. However this could change as the evening goes on! We have a lot of scattered moderate to severe thunderstorms popping up southwest of IL, and they are moving north north east! If we become a little more unstable then these storms could very well hold together and make it up to the WLFI viewing area! Take a look at what I'm talking about in this radar image below.
This is the reason we have been put under a severe thunderstorm watch until 10:00pm EDT tonight. We will all have to be here to keep everyone updated through out this weather event. Right now models are telling me we have around a 45% chance for dangerous winds if these storms do in fact hold together and move through the area. Currently the K-Index models are showing me around a 60% to 80% chance for thunderstorms this evening. This is a pretty good number. Right now the EHI models which is used along with CAPE to find where the real or highest chance for severe weather would set up is showing me just to the south of Lafayette, However it is close! Right now the tornado threat is around 5%. And hail in the area is also a low 15% chance. Now south of Lafayette, is a different story! I think they will have the highest chance for Hail, Wind, And Isolated Tornadoes, Still we need to stay storm ready and keep a close watch! Like I said this is close to home and as we seen yesterday severe weather has a mind of it's own.
Here's a look at the current severe weather outlook map below.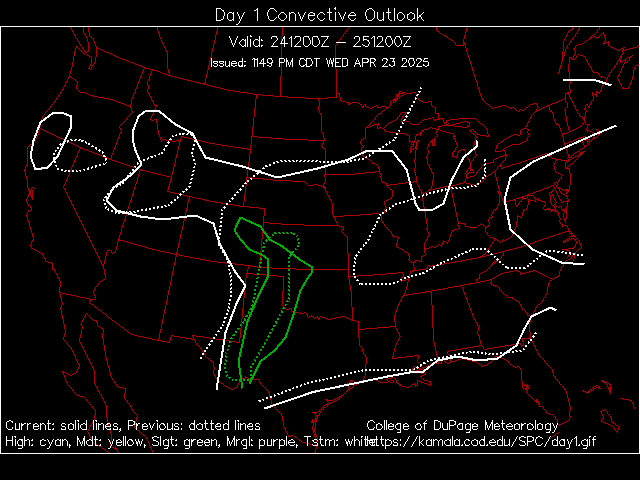 You can see in the green areas is the slight risk. The yellow area is the moderate risk for severe weather. See how close to home it is??
You can bet that I'll do my best to be here giving in storm updates as usual. So stay tuned and I will check back.